PowerZip for parallel port Zip drives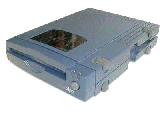 Features

Supports parallel port Zip, Zip+ and Zip250 drives
Multiple drive support
Fully RiscOS 4 compliant including long file names
Comprehensive configuration and formating software (!PowerMgr)
Fully featured backup software (!Backup)
Speed tester software (!Speed)
Supports ARM2 though to StrongARM (including Kinetic)
One year of technical support and updates
Requirements

Requires RISC OS 3.11 to RISC OS 4.xx, or RISC OS 6 (26bit build)
Requires a computer with a bi-directional parallel port
Requries a parallel port Zip, Zip+ or Zip250 drive
This is a file system and driver software only
Pricing

PowerZip for Workstations costs £15 (15 GBP) per unit

Postage

There is no postal charge on this item as it is sent via email

Ordering

You may order online or via post. To order via post, simply fill your shopping cart and at the 'checkout' state that you wish to order via post. Note that cheques used for payment must be drawn from a UK bank account. Online ordering allows for a number of credit & debit cards and currencies - allowing for worldwide payment acceptance. Online payments are via a secure server so no security issues are present. There is no VAT (sales tax) to be added to this price.





If we do not sell a product that you would like to see on your computer, click here to let us know!















Secure online payment via PayPal
This Shopping Cart software is copyrighted by Partis Computing 2001-2023